Dreams
This tutorial was written by me on November 13, 2014, using my own ideas. Any resemblance to others is coincidental and accidental. This tutorial assumes you have a working knowledge of psp and is written in PSPX.
Please leave some love when downloading supplies. The artists/creators work hard to make/share their work with us, so let's be appreciative. Please use all correct copyright information and follow all TOU's. Let's give credit where credit is due.
As always, tutorials are only a guideline. If you don't have the exact supplies, use ones you have or ones you choose.
Supplies:
Filters:
Toadies_Weaver and What Are You?
Mura's Meister_Cloud
Xero_Fritillary and Porcelain
DSB Flux_Bright Noise
Word Art/Saying of choice
Fonts_ Elfar Normal Narrow G98 and Easy Street EPS
Abbreviations:
EC = Eye Candy
GG = Gradient Glow
DS = Drop Shadow
C/P = Copy and Paste
FF = Flood Fill
ANL = Add New Layer
When working with templates, always Shift+D to duplicate, close original, then on each layer, select with magic wand (or Select All, Float, De-float), ANL, close/delete the original, do steps required in tutorial, select none
Open template
Main Background_Make a gradient #bcd4f6 and #c19cbd_Linear_Angle 130
-Repeats 4
FF layer
Dots_ANL_FF #7b1b74
Highlight Dots layer_Select all_Float_De-float
Highlight FF Layer_Promote Selection to Layer
Select none
Delete Dots and FF layers
Frames_Select squares as shown: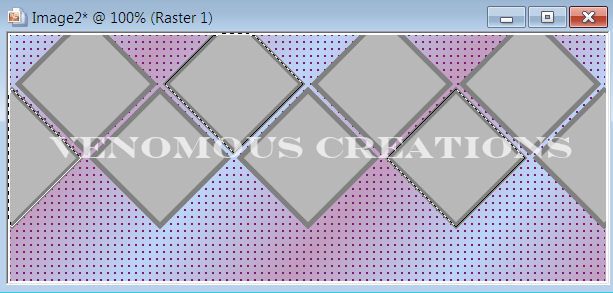 FF #859e64
ANL_FF #dfc362
Toadies_Weaver_59_48_222
Add Noise_Gaussian_25
Select None
Frames_Select Select squares as shown: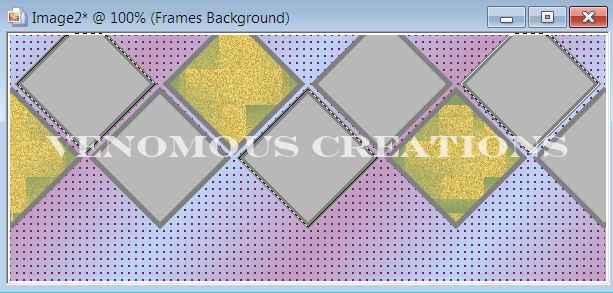 ANL_FF #bcd4f6
Effects_Texture Effects_Fine Leather: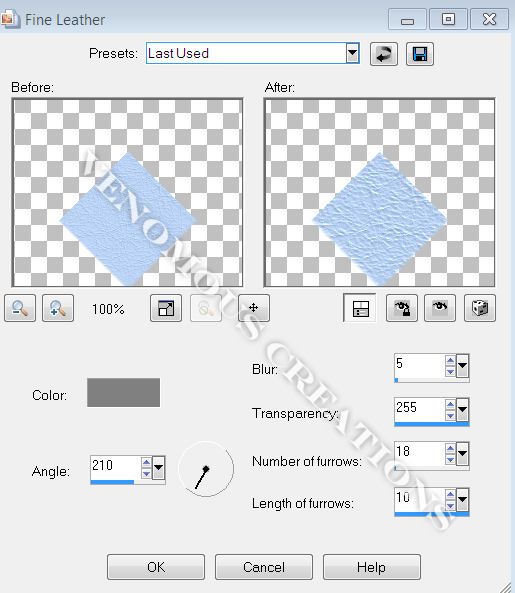 Repeat Fine Leather
ANL_FF #7b1b74
Mura's Meister_Cloud_Colors Top to Bottom: White_#bcd4f6_
#7b1b74_100_100_3_all others 0
Opacity_50
Select None
Frames_Select squares as shown: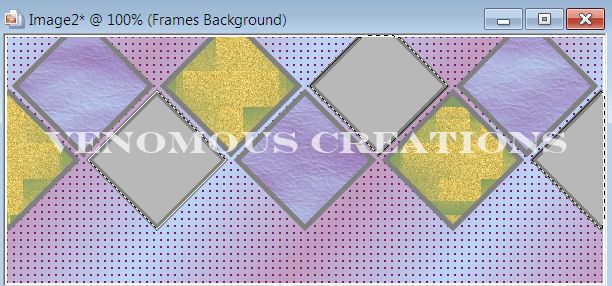 ANL_FF #3b5120
ANL_FF #bde781
Effects_Artistic Effects_Halftone:
Blend Mode_Luminance (L)
Select none
Merge all square layers visible
Duplicate
On Original_ Adjust_Blur_Radial Blur:
Xero_Fritillary_5_30_10_30
Edge Effects_Enhance
Frames Border_FF #aed1ff
Select None
Opacity 70
Duplicate twice
Top copy_DSB Flux_Bright Noise_34
Repeat Bright Noise on other 2 layers clicking "Mix" each time
DS each layer_0_0_50_10_Black
Close bottom 2 layers for now
Border_FF#7b1b74
DS_0_0_100_10_Black
C/P tube placing below Border layer
Duplicate
On original_Repeat Radial Blur
Re-size 111%
Repeat
Edge Effects_Enhance More
Gaussian Noise_25
On Copy of tube_Xero_Porcelain_50_128_128_0_0_255
DS_0_0_50_20_Black
Add word art/wording of choice_Elfar Normal Narrow G98_24_Black
EC 4000_GG_3_25_100_#f4f095_opacity 50
Add all correct copyright/license information
Name_Easy Street EPS_48_Black_Bold
Animating:
Make sure the bottom 2 Frame Border layers are closed
Copy Merged
AS_Paste As New Animation
Back in PSP_Close top Frame Border layer and open middle layer
Copy Merged
AS_Paste After Current Frame
Back in PSP_Close Middle Frame Border layer and open bottom layer
Copy Merged
AS_Paste After Current Frame
View animation and if happy, save!!