Zombie Bride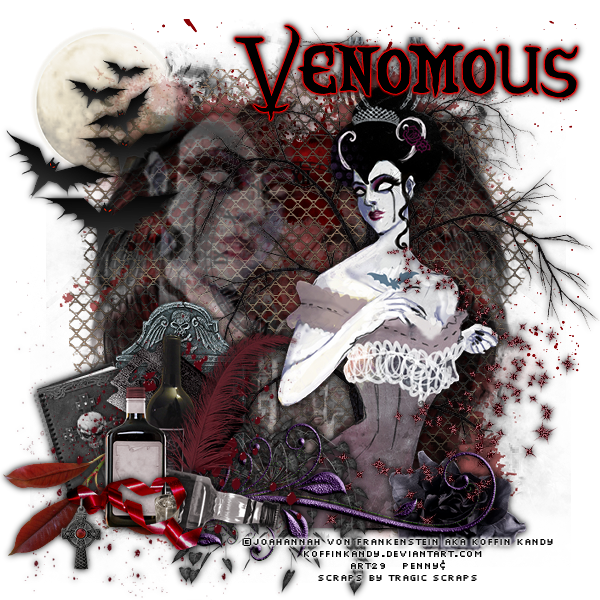 This tutorial was written by me on July 02, 2012, using my own ideas. Any resemblance to others is coincidental and accidental. This tutorial assumes you have a working knowledge of psp and is written in PSPX.
Please leave some love when downloading supplies. The artists/creators work hard to make/share their work with us, so let's be appreciative. Please use all correct copyright information and follow all TOU's. Let's give credit where credit is due.
As always, tutorials are only a guideline. If you don't have the exact supplies, use ones you have or ones you choose.
Supplies:
Eye Candy 4000 – Gradient Glow
Font of choice – I chose Blood Omen
Abbreviations:
EC = Eye Candy
GG = Gradient Glow
DS = Drop Shadow
C/P = Copy and Paste
FF = Flood Fill
Open blank 600x600 canvas
C/P the following elements and tubes, re-sizing, sharpening, placing where desired:
They are on my tag in this order starting from the bottom:
Blood Splatter 4 – I placed this so only the droplets show
Tag Back 2
Tag Back 3 – sharpen more once
Moon – lower opacity to 50
Winged Clock – change blend mode to darken
Cemetery – lower opacity to 50
Mirror the close up tube – C/P as new layer and position – lower opacity to 34
Using the circle selection tool, make a selection of the face
Modify – Feather_34
Invert – hit delete a few times to erase extra bits
Dead Tree 2
Tombstone
Book
Red Leaves
Feather 3
C/P tube as new layer
Ivy 2
Rose
Sparkles – Add noise_64
Leafy Doodle
Bloody Razorblade
Liquor Bottles
Ribbon and Cross
Bats
DS all layers EXCEPT moon, clock, close up tube, blood splatter_0_0_100_10_Black
Add all correct copyright/license information
Add name_Blood Omen_120_Black
EC 4000 – GG_3_25_100_ #c00000
Sharpen
Repeat DS
Save and enjoy!!