Ghosties and Ghoulies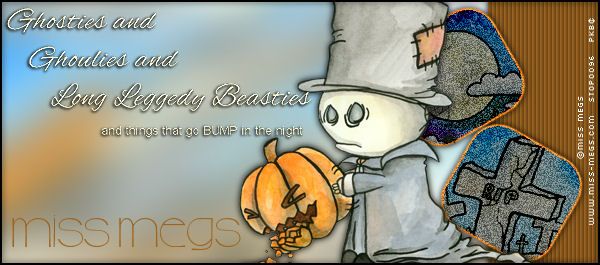 This tutorial was written by me on
October 22,2014
, using my own ideas. Any resemblance to others is coincidental and accidental. This tutorial assumes you have a working knowledge of psp and is written in PSPX.
Please leave some love when downloading supplies. The artists/creators work hard to make/share their work with us, so let's be appreciative. Please use all correct copyright information and follow all TOU's. Let's give credit where credit is due.
As always, tutorials are only a guideline. If you don't have the exact supplies, use ones you have or ones you choose.
Supplies:
"Grave Digger" tube/image by
Meg Baker
– this tube was purchased from PSP Tube Stop which has since closed. If you do not have this tube with license, pleae use a suitable replacement.
Word Art/Saying of choice – this one was made by a member of a forum and unfortunately I cannot share it.
Eye Candy 4000_Gradient Glow
Font_ CamelliaD
Abbreviations:
EC = Eye Candy
GG = Gradient Glow
DS = Drop Shadow
C/P = Copy and Paste
FF = Flood Fill
ANL = Add New Layer
AS = Animation Shop
When working with templates, always Shift+D to duplicate, close original, then on each layer, select with magic wand (or Select All, Float, De-float), ANL, close/delete the original, do steps required in tutorial, select none.
Open Template
Shift+D
Close original
Delete credits and background layers
Starting at bottom:
C/P image as new layer
Gaussian Blur_30
If blurred image does not cover canvas, stretch it until it does
Black Strip:
FF #9c6420
Effects_Texture Effects_Blinds_4_30_Black
DS_0_0_100_10_Black
Raster 2:
Select with magic wand
C/P the image again placing parts you want inside the selected area
Promote to layer
Select none
Blend Mode_Burn
Repeat for Copy of Raster 2, placing a different section of the image
Merge raster 2 and copy together
EC 4000_GG_3_25_100_#fe9025
Nose_35
Repeat DS
Merge the 2 image layers with the merged raster layers
C/P tube
Repeat DS
C/P Word Art
ANL to top of palette
FF Black
Select All_Contract 2_Delete_Select none
Repeat DS
Add all correct copyright/license information
Name_CamelliaD_48_#fe9025
Save!!