Heart Beat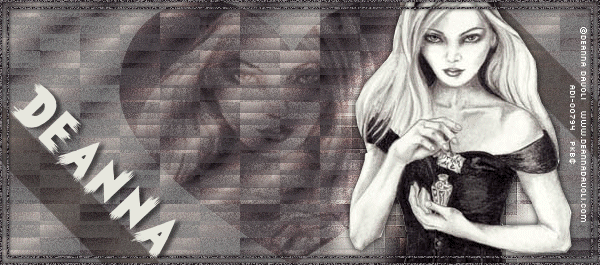 This tutorial was written by me on
October 22,2014
, using my own ideas. Any resemblance to others is coincidental and accidental. This tutorial assumes you have a working knowledge of psp and is written in PSPX.
Please leave some love when downloading supplies. The artists/creators work hard to make/share their work with us, so let's be appreciative. Please use all correct copyright information and follow all TOU's. Let's give credit where credit is due.
As always, tutorials are only a guideline. If you don't have the exact supplies, use ones you have or ones you choose.
Supplies:
Kiwi's Oelfilter_Zig-Zack
Neology_Checkered Tiling
Flaming Pear_Super Blade Pro_M_Coconutice
Pre-Set Shape_Heart
Font_CK Mystery
Abbreviations:
EC = Eye Candy
GG = Gradient Glow
DS = Drop Shadow
C/P = Copy and Paste
FF = Flood Fill
ANL = Add New Layer
Open blank 600x250 canvas
FF Black
Make a gradient #b3aaa5_#534d51_Sunburst_angle:0_Repeats:5_H&V: 50
ANL
FF with gradient
Kiwi's Oelfilter_Zig-Zack_87_34_128_128
(Note: this is a tricky filter so you may have to play around with the settings)
Duplicate
Neology_Checkered Tiling_15_255
Blend mode_Soft Light
Noise_35
ANL
FF #534d51
Blend mode_Exclusion
C/P regular tube placing on right
Duplicate
On original_Gaussian Blur_10
Distortion_Pixelate_10
Edge Effects_Enhance
Move slightly to left
Blend Mode_Overlay
DS duplicate tube_0_0_100_10_Black
Rectangle Shape tool_#b3aaa5_Draw out a line across canvas
Free rotate Left 45
Place across bottom left corner
Blend Mode_Multiply
Duplicate_Mirror_Flip
Pre-Set Shape_Heart_no stroke_Fill #534d51
Draw out a heart in center of tag as shown
Convert to raster
Magic Wand_Select inside heart
C/P close up
Invert_Delete_Select none
Merge down to heart
Blend Mode_Overlay
Duplicate
Adjust_Brightness and Contrast_30_10
Close layer for now
ANL to top
FF #534d51
Select All_Contract 2_Delete_Contract 5_FF #534d51_Contract 2_Delete_Select none
Noise_50
DS_0_0_100_5_Black
Add all correct copyright/license information
Name_CK Mystery_72_#e6e6de
Rotate Right 45
Place on strip in left bottom corner as shown
DS_2_5_50_5_Black
Animating:
Copy Merged
Paste as new Animation in AS
Back to PSP_close current heart layer and open the other
Copy Merged
AS_Paste after frame
Highlight Frame 1_Copy
Highlight Frame 2_Paste After Frame
Highlight Frame 1_Animation Properties_75
View animation
Save!!