Water Days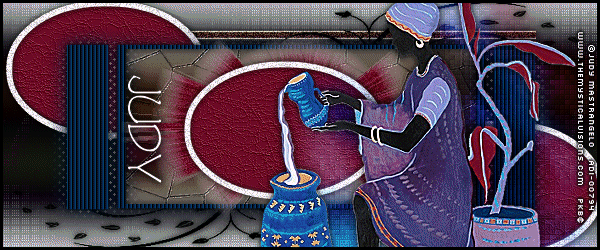 This tutorial was written by me on October 28,2014, using my own ideas. Any resemblance to others is coincidental and accidental. This tutorial assumes you have a working knowledge of psp and is written in PSPX.
Please leave some love when downloading supplies. The artists/creators work hard to make/share their work with us, so let's be appreciative. Please use all correct copyright information and follow all TOU's. Let's give credit where credit is due.
As always, tutorials are only a guideline. If you don't have the exact supplies, use ones you have or ones you choose.
Supplies:
Template 16 by
Sapphire's Splendor
(unfortunately this blog seems to be closed so please use a suitable replacement)
Penta.com_Dot and Cross
VM_Zoom Blur
DSB Flux_Bright Noise
Mura's Meister_Tone
Xenofex 1_Baked Earth
Xero_Fritillary
Font_ Cricket
Abbreviations:
EC = Eye Candy
GG = Gradient Glow
DS = Drop Shadow
C/P = Copy and Paste
FF = Flood Fill
ANL = Add New Layer
When working with templates, always Shift+D to duplicate, close original, then on each layer, select with magic wand (or Select All, Float, De-float), ANL, close/delete the original, do steps required in tutorial, select none
Open template
Delete credits, spider, bat, word layers
Re-size to 600x250
Background_FF with gradient
Duplicate
Penta.com_Dot and Cross_72_10_2
Apply mask
ANL_FF#331c08
Blend Mode_Difference
Thin Black Line_FF #941e00
Noise_35
Leaf Doodle_Duplicate_Merge Down
Duplicate_Flip_Mirror
Top Circle_FF #941e00
Texture Effects_Fine Leather_#eee7de_210_5_255_18_10
Repeat for Bottom Circle
Top Circle Frame_Noise_65
Repeat for Bottom Circle Frame
Duplicate Top Circle and Frame
Move to middle of tag as shown
Duplicate center circle
VM_Zoom Blur_23_23
Duplicate twice
DSB Flux_Bright Noise_20
Repeat Noise on other 2 layers clicking "Mix" each time
Close 2 bottom zoom layers for now
White Side Rectangle_ Merge with Frame
FF Black_Texture Effects_Blinds_4_57_#056ac6
Duplicate
On original_Gaussian Blur 10
Select all_Float_De-Float
Mura's Meister_Tone_300_50_10_45_0_0_Both boxes White
Orange Rectangle_FF with gradient
Gaussian Blur_10
Xenofex 1_Baked Earth_40_1_100_1_97_70_135_45
C/P tube placing to right
Duplicate
On original_Gaussian Blur_10
Xero_Fritillary_5_30_10_10
Move to the right slightly
Blend Mode_Hard Light
On duplicate of tube_DS_0_0_100_10_Black
ANL to top
FF Black_Select All_Contract 3_Delete_Select none
Repeat DS on all frames and the doodle
Add all correct copyright/license information
Name_Cricket_48_White
Repeat DS
Rotate_right 90
Place as shown
Animating:
Make sure 2 of the zoom blur layers are closed
Copy Merged
In AS_Paste as new animation
PSP_Close current zoom blur layer and open next one
Copy Merged
AS_paste after current frame
Repeat for final zoom blur layer
Check animation
If happy, save!!