True Blue Love
This tutorial was written by me on
June 07,2014
, using my own ideas. Any resemblance to others is coincidental and accidental. This tutorial assumes you have a working knowledge of psp and is written in PSPX.
Please leave some love when downloading supplies. The artists/creators work hard to make/share their work with us, so let's be appreciative. Please use all correct copyright information and follow all TOU's. Let's give credit where credit is due.
As always, tutorials are only a guideline. If you don't have the exact supplies, use ones you have or ones you choose.
Supplies:
Eye Candy 4000_Gradient Glow
Toadies_What Are You?
Xenofex 1_Baked Earth
Fonts_ Galadriel Antique (wording) and Copper Alt Caps Expert (name)
Abbreviations:
EC = Eye Candy
GG = Gradient Glow
DS = Drop Shadow
C/P = Copy and Paste
FF = Flood Fill
ANL = Add New Layer
AS = Animation Shop
When working with templates, always Shift+D to duplicate, close original, then on each layer, select with magic wand (or Select All, Float, De-float), ANL, close/delete the original, do steps required in tutorial, select none.
Open template
Re-size 600x500 pixels
Starting at bottom:
ANL_FF with a gradient made with #76e2e8 and #634bef_Linear_45_1 repeat
Apply mask
Bottom Rectangle_FF #76e2e8
Effects_Texture Effects_Fine Leather_White_210_5_255_18_10
Select none
DS_0_0_75_10_Black
Bottom Frame_ DS_0_0_100_5_Black (I left all the frames colored as is since they matched my tube, but you can change them to match yours)
Circle_FF #634bef
Effects_Texture Effects_Blinds_2_100_Black_Light from left/top
Select none
EC 4000_GG_3_25_100_ #634bef
DS_0_0_75_10_Black
Circle Frame_ DS_0_0_100_5_Black
Tall Rectangle_FF with gradient_same settings
Select none
DS_0_0_75_10_Black
Rectangle Frame_ DS_0_0_100_5_Black
Oval_FF #75ba54
Effects_Artistic Effects_Halftone: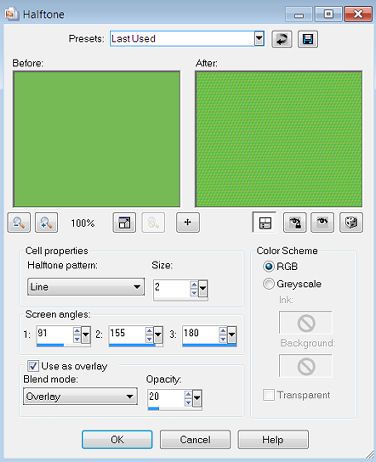 EC 4000_GG_3_25_100_ #634bef
DS_0_0_75_10_Black
Clear Rectangle_leave as is
Text tool_ Galadriel Antique_30_Black
Type out wording to match tube (I typed "True Blue Love")
Convert to raster
Blend mode_Overlay
Oval Frame_ DS_0_0_100_5_Black
Close off background and mask layer
Merge all others visible
Copy
Un-do merge
Highlight mask layer_Paste as new layer
Toadies_What Are You_20_20
Effects_Distortion Effects_Pixelate_10_10
Effects_Edge Effects_Enhance
Effects_Art Media Effects_Colored Chalk_90_30
Adjust_Blur_Gassian Blur_3
C/P tube as new layer to top
Mirror
Duplicate
On original_Gaussian Blur_5
Xenofex 1_Baked Earth:
Click your Left arrow 10 times_click Down Arrow 5 times (Baked Earth layer should move)
On duplicate tube_Xero_Porcelain_50_128_128_0_0_255
Adjust_Sharpen
DS_0_0_50_5_Black
Repeat DS
Add all correct copyright/license information
Name_Copper Alt Caps Expert_72_stroke1 #391bdf_Fill Black
Sharpen
DS_2_5_50_5_Black
Save!!