Damn I'm Good
This tutorial was written by me on
May 25,2014
, using my own ideas. Any resemblance to others is coincidental and accidental. This tutorial assumes you have a working knowledge of psp and is written in PSPX.
Please leave some love when downloading supplies. The artists/creators work hard to make/share their work with us, so let's be appreciative. Please use all correct copyright information and follow all TOU's. Let's give credit where credit is due.
As always, tutorials are only a guideline. If you don't have the exact supplies, use ones you have or ones you choose.
~*~*~ I made this set as a challenge in The Zone Groups to use items that began with the letter "W". So get ready to use those W's!!! ~*~*~
Supplies:
Eye Candy 5_Impact_Perspective Shadow
Mura's Meister_Copies
Andrew's 21 - Waving to Shore
Filter Factory A - Weave
Toadies - What Are You?
Eye Candy 4000 – Wood and Gradient Glow
Distort - Wave
Graphics Plus – Weaver
Font: WhiskeyFingers
Abbreviations:
EC = Eye Candy
GG = Gradient Glow
DS = Drop Shadow
C/P = Copy and Paste
FF = Flood Fill
ANL = Add New Layer
AS = Animation Shop
Open blank 600x250 canvas
C/P tube ANL
Mura's Meister_Copies_Wallpaper Rotate_Default
Blur_Gaussian_10
Andrew's 21 - Waving to Shore

Duplicate
Blend mode_Luminance (L)_Opacity 57
Filter Factory A – Weave: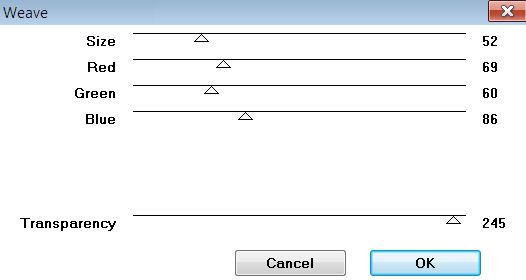 Using selection tool, select the prominent squares
Invert_Delete_Select none
Duplicate
On original_ Toadies_What Are You?
Default_Noise_Uniform 30
Duplicate Toadies layer_Lower opacity to 40
On original Toadies layer_DS_0_0_100_10_Black
On duplicate FF Weave Layer_ Eye Candy 4000 – Wood_Default
Distort – Wave:
Graphics Plus – Weaver:
Layer palette should look like this now:
C/P word art
EC 4000_GG_3_25_100_ #ff0000
DS_0_0_100_15_Black
Magic Wand_Select the black areas of "DAMN"_Noise_65_Select none
C/P tube
EC5_Impact_Perspective Shadow:
ANL to top_FF #7b171c
Select all_Contract 2_Delete
Select all_ANL_FF #ae7657_Contract 3_Delete_Select none
Move this layer below the red frame layer
Noise_Uniform 50_DS_0_0_100_10_Black
Add all correct copyright/license information
Name_ WhiskeyFingers_48_White
DS_2_5_100_5_Black
Save!!
This one uses the art of
Kiwifirestorm
available at
TPP