Love Your Pets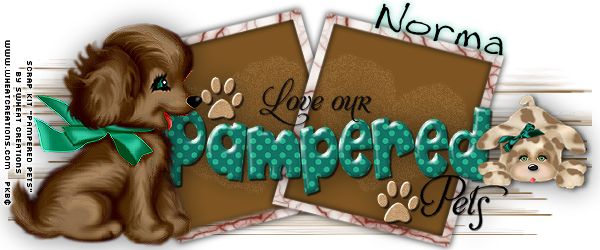 This tutorial was written by me on
April 05, 2014
, using my own ideas. Any resemblance to others is coincidental and accidental. This tutorial assumes you have a working knowledge of psp and is written in PSPX.
Please leave some love when downloading supplies. The artists/creators work hard to make/share their work with us, so let's be appreciative. Please use all correct copyright/license information and follow all TOU's. Let's give credit where credit is due.
As always, tutorials are only a guideline. If you don't have the exact supplies, use ones you have or ones you choose.
Supplies:
Brushes of choice
Eye Candy 5_Textures_Marble
Font_Tall Paul
Abbreviations:
EC = Eye Candy
GG = Gradient Glow
DS = Drop Shadow
C/P = Copy and Paste
FF = Flood Fill
ANL = Add New Layer
AS = Animation Shop
Open blank 600x250 canvas
ANL_Apply lines brush #7e5522
C/P Word Art 4
Open DogNKittyFrame in psp
Using selection tool, select around the bottom left dog
C/P on working canvas as new layer
Close frame
DS dog and word art_0_0_40_35_Black
Rectangle Tool_width 10_any color_draw a suitable sized frame
Convert to raster
EC 5_Textures_Marble_Fractured-Rough
Free rotate Left 15
Magic Wand_select inside the frame
Modify_Expand 5
ANL below
FF #7e5522
ANL
Apply a heart brush_#38c7a5_Blend mode Luminance(L)_Opacity 24_Noise 50
DS frame_0_0_100_10_Black
Merge frame, heart, and background together
Duplicate
Mirror
Add all correct copyright/license information
Name_Tall Paul_72_Black
Free rotate_Right 15
Place as shown
DS_0_0_100_10_#38c7a5
Save!!!