Thinking Of You
This tutorial was written by me on
March 28, 2014
, using my own ideas. Any resemblance to others is coincidental and accidental. This tutorial assumes you have a working knowledge of psp and is written in PSPX.
Please leave some love when downloading supplies. The artists/creators work hard to make/share their work with us, so let's be appreciative. Please use all correct copyright/license information and follow all TOU's. Let's give credit where credit is due.
As always, tutorials are only a guideline. If you don't have the exact supplies, use ones you have or ones you choose.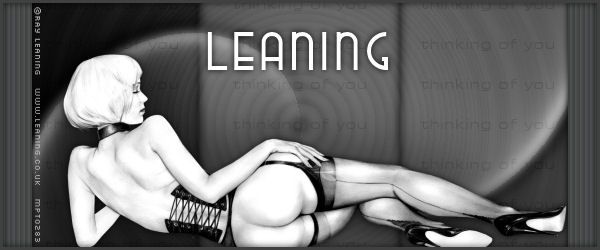 Supplies:
"Cold Shoulder" tube by
Ray Leaning
– this tube was purchased when Mr. Leaning was with MPT. Please use a suitable replacement if you don't have this tube and the license for it's use
Deplacements de Couches_Ripples In The Sand
Divers_Jammin
Dynasty Software_Ripper
DSB Flux_bright Noise
Font_Dekthusian
Abbreviations:
EC = Eye Candy
GG = Gradient Glow
DS = Drop Shadow
C/P = Copy and Paste
FF = Flood Fill
ANL = Add New Layer
AS = Animation Shop
Open blank 600x250 canvas
FF #404040
Duplicate
On duplicate_ Deplacements de Couches_Ripples In The Sand_128_14_220_31_104_28_97_107
Blend mode_Luminance
Duplicate
Divers_Jammin_131_255_0_18_0_16_0
Blend mode_Luminance
Dynasty Software_Ripper_182
Duplicate
Blur_3
Opacity_92
Using font of choice_14_#404040
Type out wording of choice
Mura's Meister_Copies_Tiling_Change Gap Size to 12
Blend Mode_Soft Light
Opacity_44
Selection tool_Make a small selection on left of tag as shown
ANL_FF #404040
Blinds_5_12_#c0e7e7_Light from Left/top
Duplicate_mirror
Merge down
ANL to top
FF #404040
Select all_contract 3_Delete_select none
DS frame and blinds layer_0_0_100_10_Black
Repeat twice
C/P tube
Perspective Shadow_75_19.65_50_79.54_Mask Selection
*~*~ The following steps are for animating. Skip if you don't wish to animate tag. *~*~
Magic wand_Tolerance 2
Click in random areas of hair
Promote to layer
Select none
Duplicate twice
DSB Flux_Bright Noise_30
Repeat on other two layers clicking MIX each time
Close bottom two noise payers
~*~ *~*~ *~*~*~*~*~*~*~
Add all correct copyright/license information
Name_dekthusian_White_38
Repeat DS
Animating
Copy merged
AS_paste as new animation
Back to psp_close top noise layer and open next one
Copy merged
AS_paste after frame
Repeat for last noise layer
Save!!
The sample below was made with the fantastic art of
Eclipsy
. This tube was purchased when Eclipsy was with MPT, but you can now purchase them at
The PSP Project
.