Hanging Around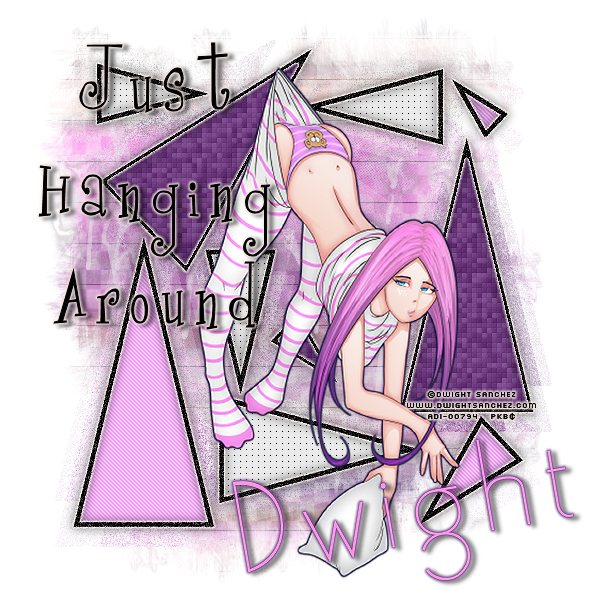 This tutorial was written by me on
November 19, 2013
, using my own ideas. Any resemblance to others is coincidental and accidental. This tutorial assumes you have a working knowledge of psp and is written in PSPX.
Please leave some love when downloading supplies. The artists/creators work hard to make/share their work with us, so let's be appreciative. Please use all correct copyright/license information and follow all TOU's. Let's give credit where credit is due.
As always, tutorials are only a guideline. If you don't have the exact supplies, use ones you have or ones you choose.
Supplies:
Preset shape of choice – I chose TrinketsJL_X
Grundgy brushes of choice
Filters:
Mura's Meister_Copies_Wallpaper Rotate
Kohan's Filters_Auotinterlace
Penta.com_Drag
Penta.com_Jeans
Xero_Fritillary
Toadies_What Are You
Eye Candy 5_Impact_Perspective Shadow
Eye Candy 4000_Gradient Glow
Fonts_Girls Are Weird (saying) and Gatsby (name)
Abbreviations:
EC = Eye Candy
GG = Gradient Glow
DS = Drop Shadow
C/P = Copy and Paste
FF = Flood Fill
ANL = Add New Layer
AS = Animation Shop
Open blank 600x600 canvas
C/P tube as new layer
Mura's Meister_Copies_Wallpaper Rotate_Default
Blur_Motion Blur_45_100
Kohan's Filters_Auotinterlace_Default
Penta.com_Drag_10
Apply mask
ANL
Apply brushes of choice in different colors for added texture/depth
Pre-set Shape_TrinketsJL_X_stroke Black 5_Fill null
Convert to raster
Using magic wand, select random areas of shape_Expand by 3_ANL below shape layer_FF #f395f9
Penta.com_Jeans_62_4
Select none
Select several other random areas
Expand_3
Highlight FF Layer
FF selected areas #6e3c7f
Xero_Fritillary_5_30_10_20
Select none
Select remaining areas
Expand 3
Highlight FF Layer
FF selected areas #ebebeb
Effects_Texture Effects_Weave_1_5_1_Both boxes Black
Select none
Highlight Shapes Outline layer
EC 4000_GG_3_25_100_ #f8eae5
Add noise_50
DS Shapes outline layer_0_0_55_15_Black
Sharpen
Duplicate FF layer
On original_Toadies_What Are You_default
Add noise_44
C/P tube
Place so it looks like she is hanging from one of the shapes
EC 5_Impact_Perspective Shadow:
Font_Girls Are Weird_72_stroke1 Black_Fill Black
Type out "Just Hanging Around"
Convert to raster
EC 4000_GG_3_25_100_ #f8eae5
DS_2_5_50_5_Black
Add all correct copyright/license information
Name_Gatsby_125_stroke1 #f693e2_Fill #f693e2
Rotate slightly to the left
Repeat GG changing color to #79478a
Sharpen
Repeat saying DS
Save!!