Girly Girl
This tutorial was written by me on
November 19, 2013
, using my own ideas. Any resemblance to others is coincidental and accidental. This tutorial assumes you have a working knowledge of psp and is written in PSPX.
Please leave some love when downloading supplies. The artists/creators work hard to make/share their work with us, so let's be appreciative. Please use all correct copyright/license information and follow all TOU's. Let's give credit where credit is due.
As always, tutorials are only a guideline. If you don't have the exact supplies, use ones you have or ones you choose.
Supplies:
Flower element of choice
Filters:
Eye Candy 4000_Swirl, Gradient Glow, and Glass
Toadies_Weaver
VM Natural_Sparkle
Eye Candy 5_Impact_Perspective Shadow
Font_GE Offshore Caps
Abbreviations:
EC = Eye Candy
GG = Gradient Glow
DS = Drop Shadow
C/P = Copy and Paste
FF = Flood Fill
ANL = Add New Layer
AS = Animation Shop
Open blank 600x250 canvas
Choose a dark and a light color from tube
I used_ #8a1050 and #dd8ab9
Make a gradient with these colors
ANL
FF with gradient_Linear_angle 45_repeats 5
Effects_Distortion Effects_Pixelate_both boxes 10
Edge Effects_Enhance
Magic Wand_select the light diagonal strips
Add Noise_Uniform_25
Select none
Image Effects_Seamless Tiling:
Custom Selection:
ANL
FF #dd8ab9
EC 4000_Swirl:
Select none
Blend Mode_Multiply
EC 4000_GG_3_25_100_#8a1050
DS_0_0_100_10_Black
ANL
Custom Selection:
Highlight background layer
Promote Selection To Layer
Select none
Free rotate_right_45
Duplicate twice
Place as shown
Duplicate
On original:
Toadies_Weaver_Default
Add noise_20
On duplicate:
EC 4000_Glass: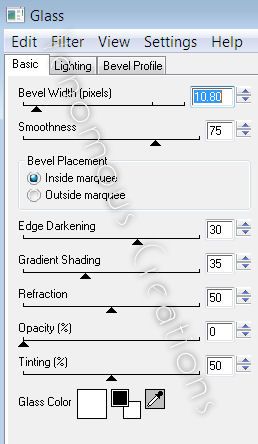 DS_2_10_50_10_Black
C/P flower element of choice
Re-size so it fits nicely in center of first diamond
Duplicate twice
Place one in center of each diamond
Merge flowers together
VM Natural_Sparkle:
Blend mode_Soft Light
Merge with diamond layer
C/P tube
Place as shown
EC 5_Impact_Perspective Shadow:
ANL to top
FF Black
Contract_3_Delete
Select all
ANL
FF #8a1050
Select all
Contract_3_Delete
Add Noise_50
Select none
Highlight black frame layer_Blur_Gaussian_5
Add all correct copyright/license information
Name_ GE Offshore Caps_72_#cc679a
Duplicate
Convert top text to raster
Add noise_50
Highlight bottom text
Select with text tool
Change color to Black
Using arrows, click the right arrow 5 times and the down arrow 4 times
(black text layer should be moving…if not, close pink text layer, click on black text with mover tool, then click the arrows…open pink text)
DS Black text_2_5_50_5_Black
Save!!
AVATAR:Open blank 150x150 canvas
Select one of the diamonds with selection tool
C/P as new layer
Re-size 85% twice
Add all correct copyright/license information if needed
Add first letter of name
Repeat steps as for sig tag
Save!!