Once Upon A Time…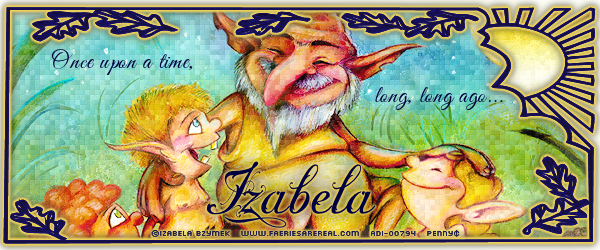 This tutorial was written by me on
August 14, 2013
, using my own ideas. Any resemblance to others is coincidental and accidental. This tutorial assumes you have a working knowledge of psp and is written in PSPX.
Please leave some love when downloading supplies. The artists/creators work hard to make/share their work with us, so let's be appreciative. Please use all correct copyright/license information and follow all TOU's. Let's give credit where credit is due.
As always, tutorials are only a guideline. If you don't have the exact supplies, use ones you have or ones you choose.
Supplies:
Eye Candy 4000_Gradient Glow
Xero_Fritillary
Fonts Fleurie, Good Vibrations ROB, and Frames And Borders II Ding Font
Abbreviations:
EC = Eye Candy
GG = Gradient Glow
DS = Drop Shadow
C/P = Copy and Paste
FF = Flood Fill
ANL = Add New Layer
AS = Animation Shop
This is a very quick, easy tag and works best with an image.
Adjust the colors to suit your tube/image
Open blank 600x250 canvas
Frames And Borders II Ding Font_500_Stroke1 #000040_Fill #000040_type a lower case "Y"
Free rotate_right_90 degrees
Stretch to cover canvas leaving small space around edges
Convert to raster
Using magic wand and selection tool, select the inside of the frame (NOT the sun part)_Expand by 2
C/P your image ANL below frame, positioning so parts you like are showing in frame
Invert_Delete
Select none
Select inside of sun making sure to select all parts_expand by 2
ANL below frame_FF with gradient of choice
Select none
Merge this layer with the image layer
Highlight frame_EC 4000_GG_3_25_100_ #ecd15b
Duplicate
On original, DS_0_0_75_15_Black
Repeat DS changing color to #fdfacd
Highlight image layer_Duplicate
On duplicate_Blend Mode_Screen
On original_Xero_Fritillary_5_30_10_24
Good Vibrations ROB_24_#000040_type out a short message and position (I typed "Once upon a time...")
Convert to raster
Add all correct copyright/license information
Name/Wording_Fleurie_72_#000040
Convert to raster
EC 4000_GG_3_25_100_ #ecd15b
DS_0_0_60_25_Black
Save!!