Patriotic Blinkie

This tutorial was written by me on
June 12, 2013
, using my own ideas. Any resemblance to others is coincidental and accidental. This tutorial assumes you have a working knowledge of psp and is written in PSPX.
Please leave some love when downloading supplies. The artists/creators work hard to make/share their work with us, so let's be appreciative. Please use all correct copyright/license information and follow all TOU's. Let's give credit where credit is due.
As always, tutorials are only a guideline. If you don't have the exact supplies, use ones you have or ones you choose.
Supplies:
Star Pre-Set Shape
Animation Shop
Abbreviations:
EC = Eye Candy
GG = Gradient Glow
DS = Drop Shadow
C/P = Copy and Paste
FF = Flood Fill
ANL = Add New Layer
AS = Animation Shop
Open blank 150x75 canvas
ANL_FF Black
Using your star pre-set shape_background #ff0000_foreground closed
Draw out a small star in top left corner
Do not convert
Duplicate 3 times
Convert bottom red star to raster layer
Highlight middle star in layer palette_click the +_double click on box that opens_change fill to white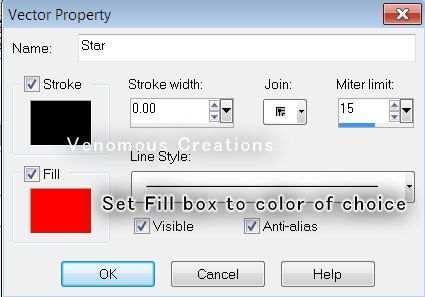 Convert to raster
Repeat for the top star changing color to #0000ff
Now for the tedious part:
Duplicate the white and blue stars once each
Move the duplicate white star to the right leaving a space between it and the red star
Repeat for the duplicate blue star placing it to the right of the white star
Repeat duplicating and placing each star evenly spaced apart, staying
in the red,white, blue order around the canvas
~*~*~Do not merge anything yet~*~*~
Once you have all your shapes where you want them, merge each color together as one layer_you should have 3 layers in this tag, red, white, blue
Add your name
ANL to top_FF Black_Select all_contract 1_delete_select none
Close off the white and blue star layers
Copy merged
AS_Paste as new animation
Back in PSP_close red layer and open white layer
Copy merged
AS_paste after current rame
Repeat for blue layer
AS_View_View animation
If blinkie looks good to you, save!!
Examples below were made the same way with different shapes and colors:
This one I made for a fellow tagger...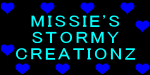 These 2 I made for a Blinkie Challenge in the ADI forum...