Sexy Pirate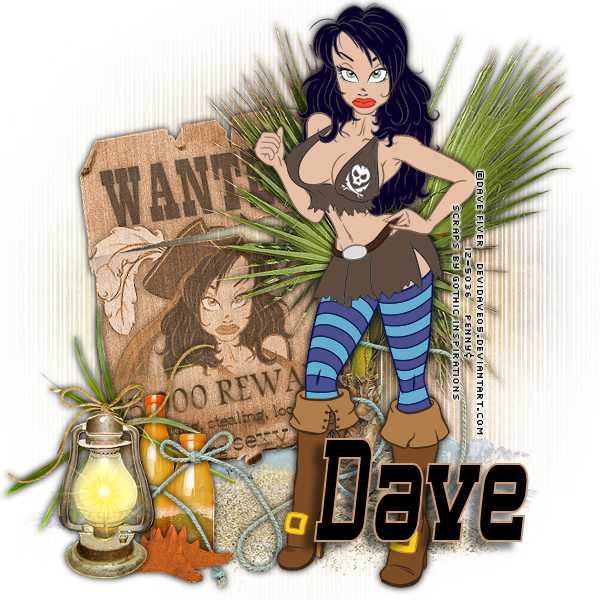 This tutorial was written by me on September 10, 2012, using my own ideas. Any resemblance to others is coincidental and accidental. This tutorial assumes you have a working knowledge of psp and is written in PSPX.
Please leave some love when downloading supplies. The artists/creators work hard to make/share their work with us, so let's be appreciative. Please use all correct copyright information and follow all TOU's. Let's give credit where credit is due.
As always, tutorials are only a guideline. If you don't have the exact supplies, use ones you have or ones you choose.
Supplies:
Filters Unlimited 2 – Aged Film
Fonts_SF Big Whiskey Condensed (name) - Alfredo's Dance (small writing) - Anderson Thunderbirds Are GO! (Wanted!)
Abbreviations:
EC = Eye Candy
GG = Gradient Glow
DS = Drop Shadow
C/P = Copy and Paste
FF = Flood Fill
Open blank 600x600 canvas
Add new layer – select all
C/P paper 2 into selection – select none
Apply mask
To make the Wanted poster:
C/P
parchment – shift+D and make narrower
Font_ Anderson Thunderbirds Are GO!_100_Black_type out "WANTED"
Use nodes to tilt a little to match angle of parchment
Convert to raster
Parchment layer_select all_float_de-float
C/P tube close up
Position then promote to layer – select none – delete original tube
Font_ Alfredo's Dance_72_Black_type out message – I used "$5,000 REWARD"_size 40_ "Pirating, stealing, looting, being"_size 60_ "SEXY"
Angle this wording to match parchment
Merge 2 word layers
Effects_Cutout_10_10_50_5_fill with #b07f48
Apply the following to the tube and parchment layers_
Filters Unlimited 2_Special Effects 1_Aged Film_Default settings
DS words and tube_0_0_50_10_Black
Merge parchment, tube, and wording together
Shift+D again and angle it slightly
Now for the rest of the tag:
C/P the following elements placing as shown:
Bottles
Greenery
Lantern
Ocean
Palm
Sand
Sealife
String
C/P tube
DS all layers_0_0_100_10_Black
Add all correct copyright/license information
Add name_ SF Big Whiskey SC_120_stroke 2 #cc9a70_fill Black
DS name_7_-20_50_10_Black
Save!!