Welcome Dinos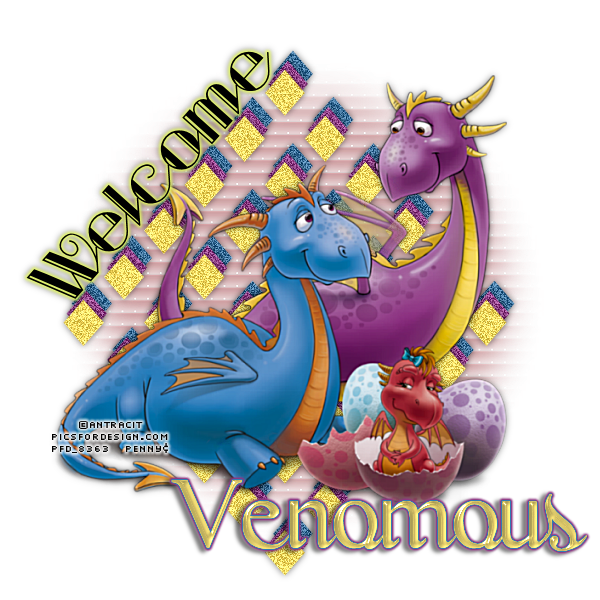 This tutorial was written by me on June 1, 2012, using my own ideas. Any resemblance to others is coincidental and accidental. This tutorial assumes you have a working knowledge of psp and is written in PSPX.
Please leave some love when downloading supplies. The artists/creators work hard to make/share their work with us, so let's be appreciative. Please use all correct copyright information and follow all TOU's. Let's give credit where credit is due.
As always, tutorials are only a guideline. If you don't have the exact supplies, use ones you have or ones you choose.
To save time, I use the following abbreviations:
C/P = copy/paste
DS = drop shadow
FF = Flood Fill
Supplies:
This tube is #02 in the file
Please do not use this tube without the proper license
Fonts "Sarsaparilla" (welcome) and "Scrypticali" (name)
Eye Candy 4000 – Gradient Glow
Flaming Pear – Super Blade Pro – Coconut Ice
Preset shape DIV36
Open new blank 600x600 blank canvas in psp
Add a new layer
FF with #bc7a7d
Open mask in psp
Layers – New Mask Layer – From Image – Montiblindsmask
Merge – Merge Group
Effects – Texture Effects – Weave_2_13_1_White_White_Fill Gaps Checked
Preset shape – DIV36 – background set on black – stroke_0
Draw out the shape in middle of canvas
Convert to raster
Duplicate
Highlight middle layer – click on image
Using the arrow keys – click left key 5 times – click down key 10 times – Layer should be moving
Duplicate
Repeat moving this layer over and down
Add a new layer above each shape layer
Bottom layer – FF #588bb4
Middle Layer – FF #c877be
Top Layer – FF #fde06a
Now repeat following 6 steps for each layer:
1.
Highlight shape – Select All – Float – Defloat
2.
Right click on color layer – Promote Selection to Layer
3.
Delete original color layer
5.
Adjust – Add/Remove Noise – Add Noise_60_Uniform_Both boxes checked
Using "Sarsaparilla"_72_Black_ type out "Welcome"
Image – Free Rotate – Left_45
Place as shown
Convert to raster
Eye Candy 4000 – Gradient Glow_3_25_100_#ebff64
DS same as before
C/P tube
DS same as before
Add all correct copyright information
"Scrypticali"_100_#fde06a
Convert to Raster
Duplicate
On duplicate – Selections – Select All – Float – Defloat
Effects – Flaming Pear – Super Blade Pro – Coconut Ice – Default Settings
Select none
On original name layer – Eye Candy 4000 – Gradient Glow_3_25_100_settings as below:
DS_2_-5_50_5_Black
Save and enjoy!!