See At the Beach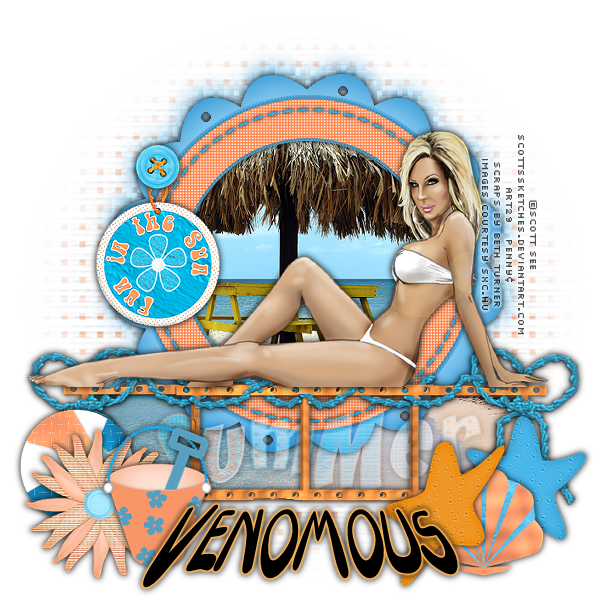 This tutorial was written by me on June 14, 2012, using my own ideas. Any resemblance to others is coincidental and accidental. This tutorial assumes you have a working knowledge of psp and is written in PSPX.
Please leave some love when downloading supplies. The artists/creators work hard to make/share their work with us, so let's be appreciative. Please use all correct copyright information and follow all TOU's. Let's give credit where credit is due. ??
As always, tutorials are only a guideline. If you don't have the exact supplies, use ones you have or ones you choose.
Supplies:
Please do not use this same tube without the proper license
"By the Sea" FTU scrap kit by Beth Turner _ I obtained this kit long ago and Ms. Turner no longer has her kits available online that I can find - Please use a suitable kit of your choice
Font of Choice – I used Textapoint
Eye Candy 4000 – Gradient Glow
Xero – Fritillary
To save time, I use the following abbreviations:
C/P = copy/paste
DS = drop shadow
FF = Flood Fill
Open blank 600x600 image n psp
Add anew layer
Select all
C/P orange dotted paper into selection
Select none
Open mask in psp
Layers – New Mask Layer – From Image – Montiblindsmask
Merge – Merge group
C/P round frame as new layer
Duplicate
On original – Adjust – Blur – Gaussian Blur_10
Effects – Xero – Fritillary_5_30_10_41
Enlarge by 102%
On duplicate - using magic wand, select inside frame
Selections – modify – expand - 6
C/P image of choice below frame
Resize and position so the part you like is showing
Right click image layer in palette and promote selection to layer
Select none
C/P film strip frame as new layer
Duplicate – Image – Mirror
Position so frames match up
Merge down
Using selection tool – make a selection around the openings
C/P image 2 of choice as new layer below frame
Resize and position – promote selection to layer
Select none
C/P "summer" from kit between film frame and image
Change Blend Mode to Soft Light
C/P tube and any elements you like as new layers and arrange on tag
Add all correct copyright/license info
Add name – Textapoint_72_Black
Holding down Ctrl, place mouse on corner node – when it changes move it towards the center
Use center node to stretch name upwards
Convert to Raster
Eye Candy 4000 – Gradient Glow_3_25_100_#fab152
DS all layers except Fritillary frame, mask and images_0_0_100_10_Black
Save and enjoy!!