Dreams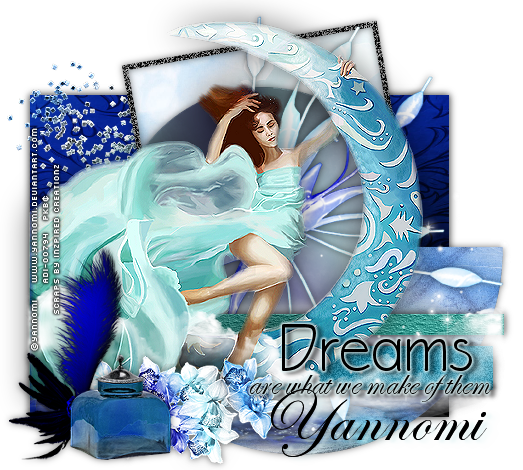 This tutorial was written by me on
October 03,2014
, using my own ideas. Any resemblance to others is coincidental and accidental. This tutorial assumes you have a working knowledge of psp and is written in PSPX.
Please leave some love when downloading supplies. The artists/creators work hard to make/share their work with us, so let's be appreciative. Please use all correct copyright information and follow all TOU's. Let's give credit where credit is due.
As always, tutorials are only a guideline. If you don't have the exact supplies, use ones you have or ones you choose.
Supplies:
Eye Candy 4000_Gradient Glow
Word Art/Wording of choice
Fonts_ EaglefeatherFormalBold, Easy Street Alt EPS
Abbreviations:
EC = Eye Candy
GG = Gradient Glow
DS = Drop Shadow
C/P = Copy and Paste
FF = Flood Fill
ANL = Add New Layer
AS = Animation Shop
When working with templates, always Shift+D to duplicate, close original, then on each layer, select with magic wand (or Select All, Float, De-float), ANL, close/delete the original, do steps required in tutorial, select none.
Rectangle_ paper 6
Background Frame_paper 2
Frame_Noise_100
Half Circle_paper 5
Thin Rectangle 1_FF #2890ad_Noise 25
Thin Rectangle 2_FF #41a49a
Duplicate
On Duplicate_Texture Effects_Fine Leather_#eee7de_210_5_255_18_10
Merge Down
C/P the following elements, placing as indicated:
Moon2_place directly above half circle
Buterfly2_paste directly above Moon2
Glitter1_paste directly above rectangle
Sparkles2_paste directly above thin rectangle
Tube_paste directly above sparkles2
Clouds2_paste directly above tube
Flower4_Mirror_paste directly above clouds2 placing to the left
Mask3_paste directly above flower4
Glass Jar_paste directly above and covering face part of mask3
DS Tube_0_0_55_45_Black
DS all other layers_0_0_50_15_Black
Repeat DS twice on thin rectangle layers
Add word art of choice or use my wording/steps below:
"Dreams"_ EaglefeatherFormalBold_72_Black
"are what we make of them"_ Easy Street Alt EPS_36_Black
Merge wording together
EC 4000_GG_3_25_100_#ddf1f2
DS_2_5_50_5_Black
Add all correct copyright/license information
Name_Easy Street Alt EPS_72_Black
DS_2_5_50_5_#ddf1f
Repeat DS
Save!!