Praying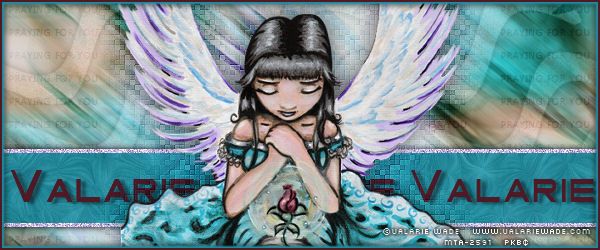 This tutorial was written by me on
June 15,2014
, using my own ideas. Any resemblance to others is coincidental and accidental. This tutorial assumes you have a working knowledge of psp and is written in PSPX.
Please leave some love when downloading supplies. The artists/creators work hard to make/share their work with us, so let's be appreciative. Please use all correct copyright information and follow all TOU's. Let's give credit where credit is due.
As always, tutorials are only a guideline. If you don't have the exact supplies, use ones you have or ones you choose.
Supplies:
"Angel" tube by
Valarie Wade
– Ms. Wade has retired from the PSP community, so please choose a suitable tube of choice
Mura's Meister_Copies
Tronds II_Paranoid Waves
Eye Candy 5_Texture_Swirl
Xero_Fritillary
Eye Candy 4000_Gradient Glow
Fonts_ Malgun Gothic (saying) and Gotthard (name)
Abbreviations:
EC = Eye Candy
GG = Gradient Glow
DS = Drop Shadow
C/P = Copy and Paste
FF = Flood Fill
ANL = Add New Layer
AS = Animation Shop
Open blank 600x250 canvas
C/P tube
Mura's Meister_Copies_Wallpaper Rotate_Default
Motion Blur_129_100
Edge Effects_Enhance
Duplicate
Tronds II_Paranoid Waves_34_97_145_86
Blend Mode_Soft Light
Opacity_50
Motion Blur_241_100
Text_Malgun Gothic_9_#4d1a26_Type out your saying (I typed "PRAYING FOR YOU")
Convert to raster
Mura's Meister_Copies_Tiling_top number 1_Tile Gap 7
Blend Mode_Soft Light
Opacity_60
ANL
Custom Selection:
FF #cbbbe9
Distortion Effects_Wave_4_10_12_28_Transparent
Image_Free Rotate_Left_25
Mura's Meister_Copies_Line_change top number to 3
Add noise_30_Gaussian
Blend Mode_Luminance (L)
Opacity_20
DS_0_0_100_10_Black
ANL
Custom Selection:
FF_#1e8a9b
EC 5_Texture_Swirl_Default
Selection_Modify_Expand_4
ANL below swirl strip
FF #cbbbe9
Noise_50
Select none
DS_0_0_100_10_Black
C/P tube
Duplicate
On Duplicate_DS_0_0_65_35_Black
Original Tube_Gaussian Blur_20
Xero_Fritillary_5_30_10_40
Edge Effects_Enhance
Blend Mode_Overlay
ANL to top
FF #4d1a26
Select all_Contract 2_Delete
EC 4000_GG_3_25_100_#1e8a9b
DS_0_0_100_10_Black
Add all correct copyright/license information
Name_Gotthard_48_#4d1a26
Convert to raster
Mura's Meister_Copies_Line_change top number to 3
DS_2_5_50_5_Black
Save!!