"Mother's Arms"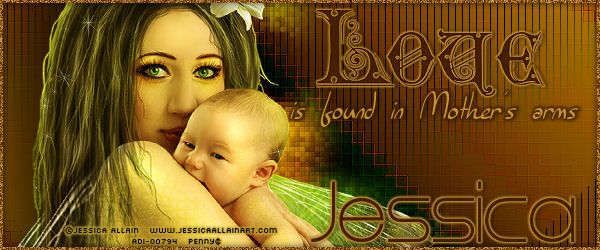 This tutorial was written by me on
June 12, 2013
, using my own ideas. Any resemblance to others is coincidental and accidental. This tutorial assumes you have a working knowledge of psp and is written in PSPX.
Please leave some love when downloading supplies. The artists/creators work hard to make/share their work with us, so let's be appreciative. Please use all correct copyright/license information and follow all TOU's. Let's give credit where credit is due.
As always, tutorials are only a guideline. If you don't have the exact supplies, use ones you have or ones you choose.
Supplies:
VideoRave_Cartoon Art
Tramages_Tow the Line
Xero_Fritillary
Eye Candy 5_Perspective Shadow
Eye Candy 4000_Gradient Glow
Fonts_ SF Burlington Script_Steiner_Sentinel
Abbreviations:
EC = Eye Candy
GG = Gradient Glow
DS = Drop Shadow
C/P = Copy and Paste
FF = Flood Fill
ANL = Add New Layer
AS = Animation Shop
Open blank 600x250 canvas
Select two colors from your tube
Gradient_Linear_angle 45_repeats 1
ANL_FF with gradient
Duplicate twice
On middle layer_VideoRave_Cartoon Art_Adjust settings to suit your gradient (I used these settings 102_209_120_65)
Distortion Effects_Pixelate_11
Edge Effects_Enhance twice
Blend mode_Burn
Top layer_Tramages_Tow The Line_Default
Blend mode_Darken
C/P tube place to left of tag
Duplicate
Original tube layer_Gaussian Blur_15
Xero_Fritillary_5_30_10_15
Using arrows on keyboard, move layer to the right and slightly down
Blend mode_Hard Light
ANL to top of tag_FF with the dark color from your gradient
Select all_Contract 3_Delete
Noise_55
DS_0_0_100_10_Black
Quote
"Love"_ Sentinel_72_#461f00
EC4000_GG_3_25_100_#c39330
Sharpen
"Mother's Arms"_ SF Burlington Script_48_#c39330
EC4000_GG_#461f00
Merge wording together
DS_0_2_50_5_Black
Add all correct copyright/license information
Name_Steiner_72_#461f00
EC4000_GG_#c39330
Save!!