Tropical Mermaid
3 piece forum set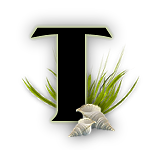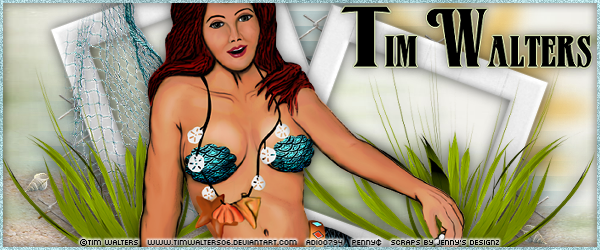 This tutorial was written by me on
April 17, 2013
using my own ideas. Any resemblance to others is coincidental and accidental. This tutorial assumes you have a working knowledge of psp and is written in PSPX.
Please leave some love when downloading supplies. The artists/creators work hard to make/share their work with us, so let's be appreciative. Please use all correct copyright information and follow all TOU's. Let's give credit where credit is due.
As always, tutorials are only a guideline. If you don't have the exact supplies, use ones you have or ones you choose.
Supplies:
Eye Candy 4000_Gradient Glow
Font_January
Abbreviations:
EC = Eye Candy
GG = Gradient Glow
DS = Drop Shadow
C/P = Copy and Paste
FF = Flood Fill
ANL = Add New Layer
AS = Animation Shop
Tag:
Open 600x600 blank image
ANL_Select All_C/P paper 5 into selection_Select none
Apply mask
C/P net
C/P frame 4
Select inside openings_Expand by 5
ANL below frame
C/P paper 4 into selection_Select none
C/P Sand_position to the bottom of tag, barely covering bottom of frame
C/P net 2_mirror_Position over top corner of frame
Use eraser to soften the overhanging edges
C/P grass_Dupicate_Mirror_position as shown
C/P bow ribbon_rotate 90 to the left_place on corner of frame
C/P tube and position slightly off center
C/P seashell 2, duplicate, mirror, resize, place as shown
C/P sun and place to the top right corner between the frame and the mask layer
Add all correct copyright/license information
Add name_January_72_Black_Do Not Convert_Place in general area you want it to be
Objects_Convert text to curve_As Character Shapes
In layer palette_Click the + beside the name_clcik the + beside the name that shows below
Find the first letter of your name (should be at bottom)_using nodes, stretch to fit under mermaids hand and widen it slightly
Repeat with first letter of last name if used
If you wish to reshape any of the other letters, highlight each one in palette, then use the nodes to adjust them
When done shaping name, convert to raster
EC 4000_GG_3_25_100_#9ca47f
Sharpen
DS all layers a blurry DS_my settings are_0_0_48_23_Black
Save!!
For forum siggy:
Open 600x250 blank image
With original tag still open and in layers, Drag and drop (click on element layer in layer palette, hold down your mouse button, move mouse pointer to new canvas, when the box with a + shows, let go of the mouse button) any elements you would like onto your new canvas (or you can start over and use elements from kit again. Be sure to repeat DS if you go this way)
Position everything so it fits nicely on tag
Sharpen after re-sizing if anything looks fuzzy
Don't forget the tube! LOL
ANL to bottom_Select all_C/P paper 4 into selection_select none
ANL to top of layers_Select all_C/P paper 5 into selection_contract by 3_Delete_Select none
Add noise_26
Add all correct copyright/license information
Add name (I drug/dropped the name from my tag and then resized it)
Save!!!
Avatar:
Open blank 150x150 image
Type first letter of name
Stretch or resize so it's a nice size (mine were size 125)
Convert_GG_Sharpen_DS
Add any elements from previous tags you like
(I added the grass and shells)
If you add any part of the tube, be sure to put the artist info on there
Save!!