Waking The Tiger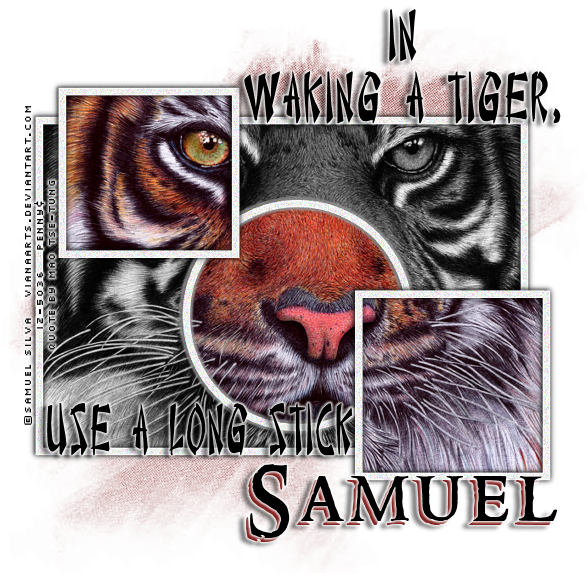 This tutorial was written by me on November 23, 2012, using my own ideas. Any resemblance to others is coincidental and accidental. This tutorial assumes you have a working knowledge of psp and is written in PSPX.
Please leave some love when downloading supplies. The artists/creators work hard to make/share their work with us, so let's be appreciative. Please use all correct copyright information and follow all TOU's. Let's give credit where credit is due.
As always, tutorials are only a guideline. If you don't have the exact supplies, use ones you have or ones you choose.
Supplies:
A template with squares and a circle – The one I used I got in 2010 and now have no idea what who created it or what site it came from. But any temp with a few squares will work nicely
Mask or brush or brush of choice for background
Font – saying_ Chinese Takeaway
Name_ Ringbearer
Abbreviations:
EC = Eye Candy
GG = Gradient Glow
DS = Drop Shadow
C/P = Copy and Paste
FF = Flood Fill
Open temp
C/P tube as new layer_ Do Not Re-Size
Select random areas of the template_I selected the 2 squares and the circle
Promote selection to layer_Select none
On original tube layer_Hue and Saturation_0_0
Select the large background rectangle_highlight original tube layer_promote to layer
Delete original tube
Add a new layer to bottom of canvas
Using a matching color, either FF and apply mask of choice OR apply a brush
On each white frame, add noise_50
DS frames_0_0_100_10_Black
Text tool_Chinese Takeaway_72_Black_type out your saying, placing as shown
EC 4000_GG_3_25_100_White
Add all correct copyright/license information
Add name_Ringbearer_72_Black_Do Not Convert
Duplicate name_convert duplicate to raster
Click back on bottom name layer, changing the color to one that matches your tube_Do Not Convert
Using the arrow keys, tap the down and left arrows until the bottom name is positioned to your liking
Apply the GG to each layer
DS bottom name and saying_2_-5_50_5_Black
Save!