Framed Fairy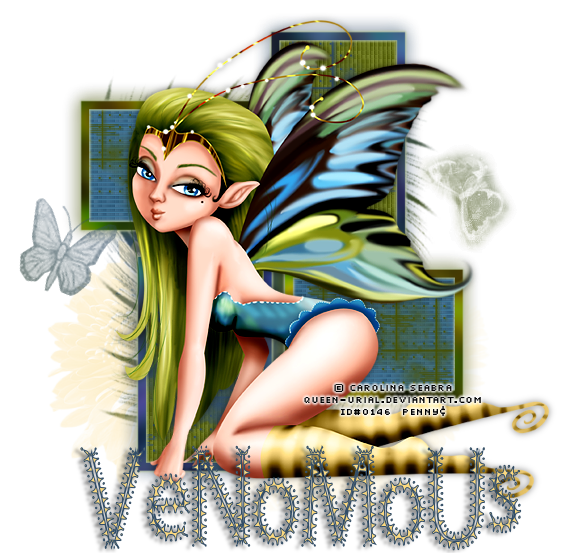 This tutorial was written by me on May 31, 2012, using my own ideas. Any resemblance to others is coincidental and accidental. This tutorial assumes you have a working knowledge of psp and is written in PSPX.
Please leave some love when downloading supplies. The artists/creators work hard to make/share their work with us, so let's be appreciative. Please use all correct copyright information and follow all TOU's. Let's give credit where credit is due.
As always, tutorials are only a guideline. If you don't have the exact supplies, use ones you have or ones you choose.
DS = Drop Shadow
C/P = Copy/Paste
Supplies: Tube of choice – I used an awesome little fairy by
Carolina Seabra
– aka:
Queen Urial
Please do not use Ms. Seabra's art without the proper license
Brushes of choice
Mask of choice
Font of choice – This one is CircusCircus
Eye Candy 4000 – HSB Noise and Gradient Glow
Open a new 600x600 blank image in psp.
Select 2 colors from your tube
Rectangle tool – line width 10
Close the background color
Draw our a rectangle on canvas – convert to raster
Repeat with opposite color
I did mine in different sizes
Duplicate and place each shape as shown
Merge squares together
Duplicate
On duplicate – Eye Candy 4000 – HSB Noise – default settings
On original frames – Adjust – Blur – Gaussian Blur - 10
Using magic wand – click inside each shape
Selections – Modify – Expand – 5
Add new layer below squares
Flood fill each square with the opposite color (blue fills with green – green fills with blue)
Select none
Magic wand – select blue blocks
Effects – Texture Effects – Blinds_5_50_#5b9ece (or lighter shade of your color)_Hoizontal unchecked
Select none
Repeat for green blocks using #d1ce5c (or lighter shade of your color)
Duplicate
On duplicate – Effects – Xero – Fritillary_5_30_10_17
Effects – Edge Effects – Enhance
Lower opacity to about 65
Add new layer above blocks
Alternating colors, aply brushes of choice, adding new layer for each different brush
Add new layer and send to bottom
Make a gradient using the 2 colors you chose earlier – Angle_45_Repeats_2
Open mask in psp
Layers – New Mask Layer – From Image – choose mask from drop down list
Merge group
Select original frame layer
Effects – Eye Candy 4000 – Gradient Glow_3_25_100_#fcd97f
DS_0_0_100_10_Black
Now add tube as a new layer
DS_0_0_50_10_Black
Add all correct copyright info
Add name_CircusCircus_100_Stroke_1_#314d68_Fill #fcd97f_alternate Upper and lower case letters
Convert to raster
DS_2_-5_50_5_Black
Save and you're done!!